I have been working on penis enlargement for over four years. After spending thousands of dollars and a ton of time, I found out what works and what does not work. My experience includes using penis traction devices (aka penis extenders). I can answer the question, "Do penis traction devices work?"
Penis traction devices are the only studied and proven method of penis enlargement. I have tried penis extenders and photo-documented my size increase results. The documented results from our traction device for penile growth research match the results found in scientific studies.
So let's take a look at penis traction devices. We will look at if they work, how they work, the types of penis extenders, the problem with most penis extenders, my results documentation, my result pictures, alternative penis enlargement methods, the science behind penis traction devices, and more.
Do Penis Traction Devices Work?
Both scientific research studies and my usage have shown penis traction devices to be the only effective method for penis enlargement. Penis enlargement results with penis traction devices (aka penis extenders) are not quick or easy. It will take months or even years to achieve your size goals.
In my case, I gained 1/2″ in penis length in two months and 7/8″ of an inch in four months. This was by wearing a penis extender for at least six hours per day, seven days a week. This is definitely a marathon and is not an overnight thing.
My results were pretty much in line with what other studies have found (see the studies section). The best and easiest-to-read study on the use of a traction device for penile growth is from the British Journal of Urology International and is called Non-invasive methods of penile lengthening: fact or fiction?
The basic results of the study were that penis extenders were the only non-invasive method that was shown to effectively increase penis size.
The main idea of a penis traction device is to lengthen the penis over time by applying small amounts of consistent traction. This type of minimal force over time is referred to as passive penis enlargement. This force needs to be at a safe level that the user can apply for long periods of time.
These forces cause micro-tears to the penis tissue which promotes cell division. The healing process and creation of new penis tissue enlarge the penis over time. When you think about it, this method just makes sense.
I know that this method just gave me phenomenal penis enlargement results. There was just one problem with penis extenders that I had to overcome to achieve these results.
The Penis Extender Problem
There is one problem that a lot of users run into when trying to make a penis extender work for their penis enlargement goals. This problem is not wearing the device for long enough.
To make this work, you need to find a device that you can wear comfortably and consistently for extended periods of time without restricting blood flow. In order for this to work, you need to commit to wearing this penis traction device for at least six hours per day and seven days per week.
Some people have this problem because they can't make the commitment to wearing these devices. They are not difficult to wear but they can be a pain. The biggest pain is having to take it off and put it back on every time you go to the bathroom.
I did not have that problem because I was definitely committed to my penis enlargement goals. The problem I ran into was finding a device that would stay in place. I almost gave up because all of the devices I initially tried would come loose and fall off at inopportune times.
I wanted to have great results but I could only wear my traction device for a short period of time before it fell off. I did not get any results until I found a solution to that problem. My solution was to use a vacuum bell design penis traction device like those found in the Phallosan Forte or the Total Man System.
>
This is why it is extremely important to find one that fits comfortably and stays in place for extended periods of time. This is why it is extremely important to find a penis you find a penis traction device that will comfortably stay in place to work over time. If you can't wear it for hours at a time, it does no good.
Check out the Top 5 Penis Traction Devices for a list of the best penis traction devices.
What Is A Penis Extender?
A penis extender is a device that is meant to apply small amounts of force to the penis over time in order to enlarge the penis. There are two main types of penis extenders. There are the loop/strap systems and there are the vacuum bell penis extenders.
The Traditional Loop/Strap Penis Extender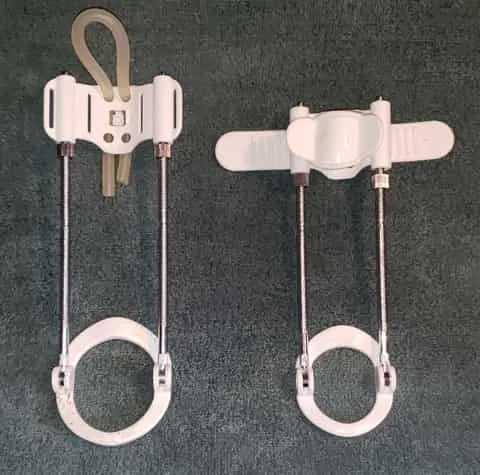 The loop/strap system is the traditional extender system. This kind utilizes loops and straps to attach the device to the shaft of the penis just below the glans (head). Springs in the device rods are then used to apply traction/force to the penis to stretch it out.
The rods can be adjusted to lengthen or shorten the device using screws. The longer the rod is set the more force is applied to the penis.
This is the type of system found in brands like the Quick Extender Pro, Male Edge, Jes-Extender, and many of the low-cost systems that you will find on Amazon or eBay.
In theory, this type of device is great but in reality, there is a problem. The big problem for many users including myself is that the penis has a tendency to slip out of the loop or strap while it is under tension.
This makes it difficult to get the time in tension that is needed for actual penis lengthening. In addition, it can be embarrassing if this slips off at the wrong time and falls out of your pant leg.
When using a system like this, the amount of force does not remain constant. When you bend or move, you can sometimes place more or less force on the penis. Over time, these variations in force cause the loop or strap to work its way over the head of the penis. Once this happens the device falls off.
You can tighten the loop or strap to try to get it to stay in place but I still had problems. It would feel like I was cutting off the blood to the head of the penis and it would still eventually come loose.
This is the type of system I started out using when I first tried to use extenders. It was a total disaster. I was lucky to keep the system in place for a half hour much less the six hours per day that I needed to see real results.
Maybe if you have a really large penis head in comparison to the shaft then this would not be a problem but I know that myself and many other men have this problem with this type of device.
The Vacuum Bell Penis Extenders
The second kind of penis extender utilizes vacuum and tension to apply traction to the penis. A bell is placed around the head of the penis and then a light vacuum is created in the bell to keep it attached to the penis.
Traction force is applied to the bell through the use of a belt or leg strap. This places the penis under stretching tension and stimulates the enlargement of the penis. Some new versions of this system also use penis extender frames in conjunction with vacuum bells.
The best part of these systems is that they just stay in place which lets them work over time. The light vacuum that the bell chamber creates is comfortable for long periods of time and it will not fall off under any circumstances
I used two penis enlargement systems that incorporated the vacuum bell system. These were the Phallosan Forte and the Total Man System. My results with these two systems were just phenomenal. With these two systems, I gained 1 1/2″ of penis length in 12 months.
You can read the documentation of my results in the My Penis Traction Results section. You can see my pictures in the My Penis Traction Device Before and After Pictures section.
Do not get me wrong. This was not easy and it did require six hours of device wear each and every day but the vacuum bell-type penis extenders made this possible.
The Phallosan Forte and the Total Man System are my two top penis enlargement systems. The Phallosan Forte is easier to use, has more safety controls, and is generally a better penis traction device.
The Total Man System is for more advanced users, accelerates results by incorporating active stretching, and is less expensive.
I use both systems to maximize my results but you can not go wrong with either system.
My Penis Traction Device Results
The Table below tracks the results of my penis traction device use over time. For the first eight months, I was using the Phallosan Forte penis traction device only. From month eight forward, I incorporated the use of the Total Man System into my penis enlargement program.
When most of us think of penis size, we think of penis length but there is another size stat that many women find even more important. That stat is thickness or circumference (the total distance around the penis shaft). The table below tracks my growth in both of these areas.
I never really thought of it before using a penis traction device but the forces that cause penis lengthening also cause penis thickening. When the penis tissue starts growing, it will increase in all directions. My thickening gains were as impressive as my length gains.
Another big stat is actual volume. This is the true size of the penis as determined by length and circumference. When you have sex with a woman, what she feels inside of her is a function of the volume of your penis.
With that, I give you my Penis Traction Device Penis Enlargement Table:
Penis Traction Device Results
Start of Use first penis traction device (Phallosan Forte Only)
1 Month of Use
(Phallosan Forte Only)
4 Months of Use
(Phallosan Forte Only)
8 Months of Use (Start of Total Man System in combination with Phallosan Forte)
12 Months of Use
(Total Man System in combination with Phallosan Forte)
2022 Update
over 1 year of use (see notes)
Penis Length (inches)
6.50
6.875
7.375
7.5
8.0
8.25
Penis Length Gain (inches)
n/a
0.375
(5.7%)
0.875 (13.5%)
1.0
(15.4)
1.5
(23.1%)
1.75
(26.9%)
Penis Circumference (inches)
5.875
6.0
6.5
6.5
7.0
7.125
Penis Circumference Gain (inches)
n/a
0.125
(2.1%)
0.675 (11.5%)
0.675
(11.5%)
1.125
(19.1%)
1.25
(21.3%)
Approximate Penis Volume (cubic inches calculated as V=πr2h)
17.79
19.635
24.71
25.18
31.19
33.26
Penis Volume Gain (cubic inches)
n/a
1.845
(10.4%)
6.92 (38.9%)
7.39
(41.5%)
13.4
(75.3)
15.5
(87.0%)
Penis Traction Device Results Chart
2022 Note: I have achieved my penis enlargement goals of 8.25″ in length and over 7″ in circumference. Actually, my wife has told me that it is more than big enough. At this point, I am not trying to enlarge my penis. I just use the Total Man System a couple of times a month to make sure that I maintain my gains.
Check out Phallosan Forte Review: My amazing documented results for my complete Phallosan Forte review.
Check out Review of the Total Man Penis Traction Device: Great Results? for my complete Total Man System review.
My Penis Traction Device Before and After Pictures
I have blurred the penis part of the pictures below but you can see how I have received excellent results from my use of penis traction devices. If you want to see the pictures without the blurring you can do so here.
Here is my penis traction device before and after pictures:
I wish that I had taken more pictures but these are what I took. The first picture is from about one month after I started using the Phallosan Forte System. At this point, I only had a 0.375″ increase in length but I was ecstatic. This was more than I had from years of all other methods.
The second picture is from the four-month mark of using the Phallosan Forte and still before using the Total Man Shop system. At this point, I had gained almost an inch in penis length and over 1/2″ in penis circumference. This was just amazing.
At the 8-month point, I started using the Total Man system in combination with the Phallosan Forte and things really took off.
As you can see from the Total Man before and after pictures at the over 12 months mark, my penis actually has become enormous in both my opinion and my wife's opinion. I am so proud of my penis size now. This creates a confidence that just carries over through all areas of your life.
The Problems with Other Penis Enlargement Methods
Any internet search will show that there is no shortage of penis enlargement methods out there. Anything that offers you overnight or instantaneous results is obviously fraudulent. The one scientifically proven method continues to be penis traction devices.
We will take a quick look at some of these other methods and their effectiveness in penis enlargement.
Pills for Penis Enlargement
There are no magic pills that will lead to penis enlargement. No studies or credible sources make any claims of penis enlargement through the use of oral medication.
Most claims of penis enlargement from pills focus on increased blood flow to the penis creating penis enlargement. While blood flow to the penis is incredibly important for many things, it will not enlarge the penis on its own.
The amount of pressure from blood flow that would be required would cause a stroke or something. Just think of the amount of blood flow you had to your penis when you were a teenager. If that blood flow enlarged the penis, we would all be walking around with a foot-long penis.
Lotions for Penis Enlargement
This is even more ridiculous than penis enlargement pills. Anything applied to the skin is just absorbed into the bloodstream and carried away to the whole body. I am not even sure how this is supposed to work.
Some make claims of stronger erections like penis pills but once again this is not going to create penis enlargement on its own. I have tried some of these lotions like the Diktator penis enlargement lotion and the Russian Peptides DHT lotion with zero results from either one.
Active Stretching
Active Stretching involves applying stronger forces over short periods of time with techniques like stretches, weight hanging, and pumps. The theory behind these exercises is similar to the penis traction devices in that you stretch the tissue and prompt new penis tissue growth.
Unfortunately, they do not work because you can not do those types of activities for a long enough period of time to make a significant difference. These exercises involve strong forces that restrict blood flow to the penis and can only be safely done for 10-15 minutes.
After doing these exercises, you will notice that your penis will look good for a few minutes but it will just want to quickly revert back to its original size and heal at the original size.
These active stretching techniques often involve restricting the blood flow or applying pressure that can cause significant internal damage to the penis if done for too long. It is too easy to overdo it and actually causes damage to your penis.
If you leave the large forces of a vacuum pump, weight hanging or manual stretches on for too long you will certainly damage your penis. Usually, it is just temporary damage that can reduce your erection quality for a short time but sometimes it can be more permanent.
This is not to say that active stretching techniques are of no value. These techniques are used by the Total Man system in conjunction with the penis traction device. The Total Man uses active stretching to initiate stress and cell division in the penis tissue.
>
The Total Man System immediately follows up the active stretching with a passive healing session using a penis traction device known as the All Day Stretcher. The use of the passive penis traction device long-term, while the penis is stretched in a very elongated state, leads to larger gains over time.
So while active stretching alone will not lead to penis lengthening, it can still be of value to your penis enlargement program. Either way, you still need a good penis traction device.
Surgery for Penis Lengthening
Many people think of surgery as an effective option for penis lengthening. The type of surgery for penis lengthening is called suspensory ligament release surgery and it can aid in achieving your penis lengthening goals but you will still need to utilize a penis traction device to achieve results.
During the surgery, they cut the suspensory ligament which allows your penis to move forward becoming longer by exposing more of your internal penis. If you don't follow up the surgery with the use of a penis traction device, the ligament will just want to retract and heal in its original position.
So really, suspensory ligament release surgery is more of an aid to the penis traction device than the other way around. The surgery will help you gain faster results from your penis traction device. But the surgery without the use of a penis traction device will do little or nothing for your penis length.
I have personally had suspensory ligament release surgery and had horrible results because I did not have a penis traction device that worked. I got much better results when I found a good penis extender than what I ever got from penis enlargement surgery.
You can read My Penile Suspensory Ligament Release Surgery for my penis enlargement surgery experience.
A Note About Erection Quality and Penis Traction Devices
The good news is that when used properly penis traction devices will have no negative impact on your erection quality. Many manufacturers even claim that these devices will help your erection quality.
There is however one important thing to remember when it comes to penis traction devices and erection quality. It is that you need to have excellent erection quality in order for a penis traction device to work as a penis enlargement device.
The whole idea behind a penis extender is that it places the penis under stress and triggers cell division and penis tissue growth. In order for this to happen, you need to have excellent blood flow to the penis. This blood brings oxygen and nutrients to the cells that allow them to heal and enlarge the penis.
The most important part of this is the natural nightly long-lasting erections that come with healthy penis blood flow. This is the body's natural way to keep the penis healthy and the penis tissue supplied with all that it needs.
If you do not have these healthy natural erections, your penis enlargement program is doomed to fail.
Prescription pills, injections, and constriction rings do not provide for these healthy nightly erections. If you do not have good erection quality, you can try a few things.
First of all, visit a doctor. Poor erection quality can be a sign of serious conditions. A doctor can help you find lifestyle changes that will help your erection quality. These changes can be losing weight, exercising, lowering blood pressure, and controlling blood sugar.
Another effective method that you can try for erection quality is acoustic wave therapy with the Phoenix Device. I struggled with erection quality for a long time before discovering this treatment method that doesn't just mask the symptoms of poor erection quality.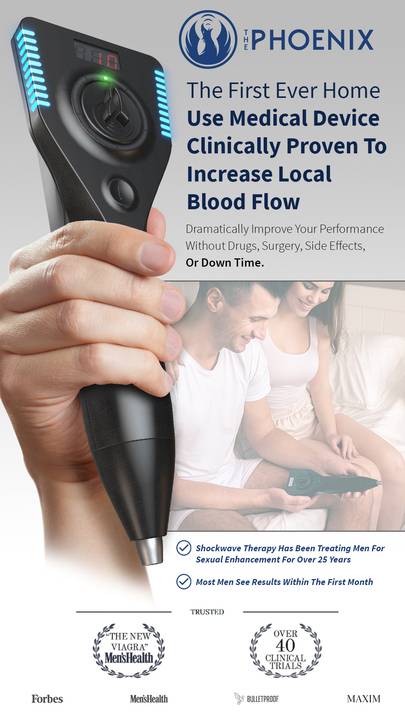 It works to treat poor blood flow in the penis which is the root cause of most erection issues. I know it worked for me. You can read all about my experience with acoustic wave therapy here.
This treatment used to only be available to the rich and famous in clinical settings. Now the same patented FDA-approved technology is available at an affordable price for at-home use.
The Science Behind Penis Traction Devices
Penis traction devices are the one method of penis lengthening that there seems to be some scientific agreement about its effectiveness. While doctors seem to be really hesitant to discuss penis enlargement at all there have been some studies into the effectiveness of penis traction devices.
The following articles contain a sample of scientific studies showing the effectiveness of penile traction for lengthening the penis. There are dozens of more examples out there but these will give you an idea of the effectiveness of the treatment.
My Recommendations for Penis Traction Devices
Whether you call them penis traction devices or penis extenders, they are the only thing that will work to make your penis longer. This has been shown in my results and in scientific studies. There is a major trick to making this work for you.
You need to find a penis traction device that stays in place comfortably for at least six hours per day. If it does not do this, you are wasting your time and money.
I know the frustration of not having the penis size that you want. Don't give up and don't continue to feel inadequate when there is something that you can do about it. With a little bit of time and effort, you can get the penis that you want and deserve.
I know that the Phallosan Forte and the Total Man System were the two systems that worked for me but check out my Top Five Penis Traction Devices for more options on these incredible penis traction devices.
>
Related Posts
What Works for Weight Loss and Energy
PrimeGENIX DIM 3X Review Is It Legit
What works for Erection Quality:
Review of The Phoenix Acoustic Wave Therapy Device for Erection Quality
What Works for both Penis Lengthening and Thickening:
Penis Traction Devices Including Before and After Results
Review of the Phallosan Forte for Penis Enlargement