My wife and I just love visiting nude beaches and resorts. We have been compiling a list of nude beaches and resorts across the United States and trying to visit as many of them as possible. So this begs the question, what is there for New Jersey nude beaches and resorts?
A New Jersey nudist has numerous excellent options to spend some time naked. New Jersey nude beaches include one of the top USA nude beaches in Gunnison Beach. New Jersey nudist resorts have multiple highly rated locations and there is even a New Jersey swinger resort.
So let's take a look at all that New Jersey has to offer. We will look at New Jersey nude beach options, New Jersey nudist resorts, New Jersey swinger resorts, and a Special Note to Men that are new to the nudist lifestyle and may need some extra confidence.
New Jersey Nude Beaches and Resorts Table
| | | | |
| --- | --- | --- | --- |
| Name | Location | Type | Naturist or Swinger Lifestyle |
| Gunnison Beach | Middletown, NJ | Beach | Fully nude public beach |
| Sunset Beach (unofficial nude beach use at your own risk, see notes) | Lower Township, NJ | Beach | Unofficial Public Beach |
| Rock Lodge Club | Stockholm, NJ | Club/Resort | Naturist |
| Sky Farm Inc | Basking Ridge, NJ  | Club/Resort | Naturist |
| Goodland Country Club | Hackettstown, NJ, | Club/Resort | Naturist |
| Saints & Sinners Club/Surfside Hotel | Atlantic City, NJ | Club/Resort | Swinger Lifestyle |
From the table above, you can see that there are quite a few options to go nude in New Jersey. Considering that this is a cold-weather state, the options are not that bad.
Congratulations to every New Jersey nudist as New Jersey was named the nation's No. 1 state for nakedness.
The highlight of New Jersey nude beaches is Gunnison Beach which is one of the top nude beaches in the country. In addition, there are some top-rated New Jersey nudist resorts. New Jersey offers some awesome options to explore the nudist lifestyle.
In the table above, you will see that each resort location has a designation of naturist or swinger lifestyle. If you are new to visiting nudist spots, you may not know the distinction.
You can find out more about the distinction by reading Naturist or Swinger Nude Resorts and Beaches.
If you are researching the nudity lifestyle, then I suggest checking it out for yourself. My wife and I have found that this lifestyle is very fun and we have met so many awesome people. Be sure to check it out at a place that fits your interest whether that is naturist or swinger.
If you are a guy and have some of the insecurities that I had about going nude be sure to check out Special Note to Men. I put off visiting these places for way too long and I wish that I had started years ago.
New Jersey Nude Beaches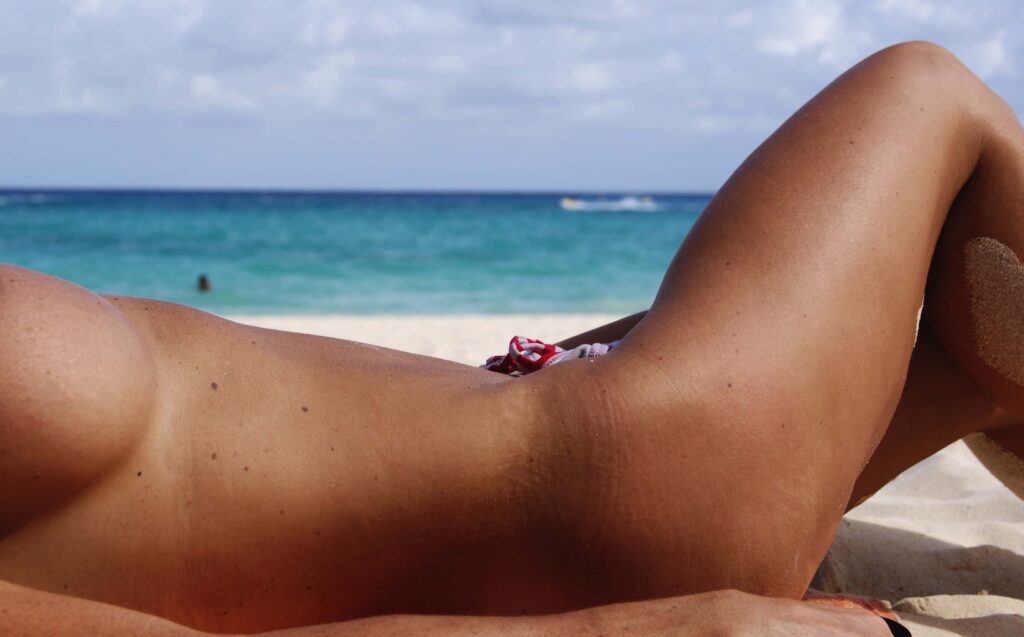 If you live in New Jersey, you have access to one of the best nude beaches in the United States. Gunnison Beach is an extremely popular nude beach and nudity is officially allowed there so there are no worries about running into trouble with the law.
There are some unofficial nude beach locations in New Jersey but users should be really cautious.
Public nudity including women being topless is illegal in New Jersey so I would be real leery about going to any unofficial nude beaches. A lot of law enforcement officials are willing to look the other way but there is no guarantee of this.
Some great alternatives to New Jersey nude beaches include New Jersey nudist resorts and New Jersey swinger resorts. These resorts can give you some alternative places to soak up the sun in the buff.
If you are set on visiting some great nude beaches year-round, I would recommend checking out Florida Nude Beaches for some of the best nude beaches in the country.
Gunnison Beach
Middletown, New Jersey
Website
New Jersey nude beaches include the world-famous Gunnison Beach.
Gunnison beach is the largest nude beach on the east coast of the United States. The only beach that is even close to it in size and popularity is Haulover Beach in Florida. It has a great view of New York City and is very popular in the summer months.
This is one of those rare beaches where it is not only socially acceptable but also legal to take it all off and enjoy the sun in the buff. You can find close to a thousand nude sunbathers here on a hot summer day.
You will find all different ages and body types here so do not be bashful about baring it all.
Visiting Gunnison Beach is free. Use parking lot G in the Fort Hancock area of the Sandy Hook Unit of Gateway National Recreation Area.
If you live in this area, you have to give Gunnison Beach a try. It is a must-visit for any nudist.
Sunset Beach
Lower Township, New Jersey
Other New Jersey nude beaches are unofficial nude beaches which means that the nudity is illegal and you use than at your own risk. People do get tickets or arrested here and I would not personally risk it.
An example of this is Sunset Beach in Lower Township, NJ. Apparently, a lot of people still utilize this beach to get a few naked rays.
There are numerous articles that you can find detailing how the Higbee Beach section is still used by many for nude sunbathing. Most articles mention that the beach is popular with gay and naturist beachgoers.
New Jersey Nudist Resorts for Naturists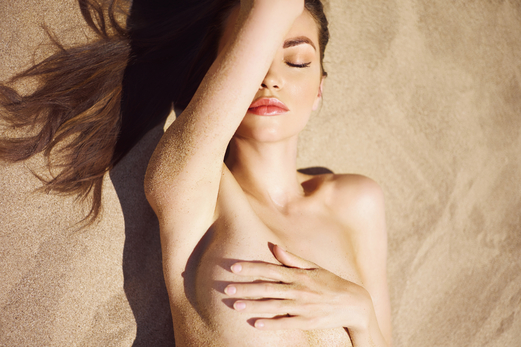 These New Jersey nudist resorts and campgrounds are for naturists. They are family orientated so public sexual activity is discouraged. These can be very relaxing spots to visit and get the ultimate downtime in the buff.
If you are new to the nudist lifestyle, these resorts can be an excellent way to have your first experience.
Rock Lodge Club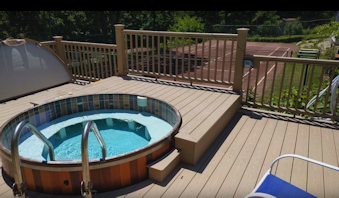 Rock Lodge Club
119 Rock Lodge Rd,
Stockholm, NJ 07460
(973) 697-9721
https://www.rocklodge.com/
This New Jersey nudist resort is an excellent family-orientated naturist spot. Rock Lodge Club is a beautiful 145-acre naturist club that is focused around a spring-fed lake.
This means that this is a nonsexual spot that is open to families including children. So this place is not a swinger lifestyle-friendly park.
Please keep in mind that nudity is required in certain areas such as the hot tub, sauna, and lake. The club is clothing optional in other areas.
If you are looking for a family-friendly naturist spot in New Jersey then you probably can't do much better than this place. Rock Lodge Club receives great reviews from users with most saying that they plan to return.
The amenities at Empire Haven include:
Fitness Room
Sauna
Hot Tub
Clay Tennis Court
All Weather Tennis Court
Petanque
Horseshoes
Volleyball Court
Pickle Ball Court
Fitness Room
Beautiful, Spring-fed Lake
Row Boats
Paddle Boat
"Sunfish" – Our Small Sailboat
Kayaks
Ping Pong Table
Piano
Flat Panel 55″ Screen Cable TV w/DVD player
Wi-Fi
Biking Trails
Hiking Trails
Weekday visitation is limited to club members only. Non-members can visit on weekends but must fill out a visit request form online at their website before visiting. The day fee for visitors is $45 per day for adults (children under 18 are free). There is a maximum of 4-day visits for nonmembers before membership is required.
The membership fees for the Rock Lodge Club are $560 for full membership and $160 for associate membership. The full membership entitles you to unlimited free visits and the associate membership gets you unlimited visits at $35 per day. There are some other benefits to membership that you can find on their website.
Rock Lodge Club does not have camping or RV sites but they do have a limited number of room rentals. The room rates vary from as low as $30 per night up to $100 per night. Room rentals do not include your day fees.
Sky Farm Inc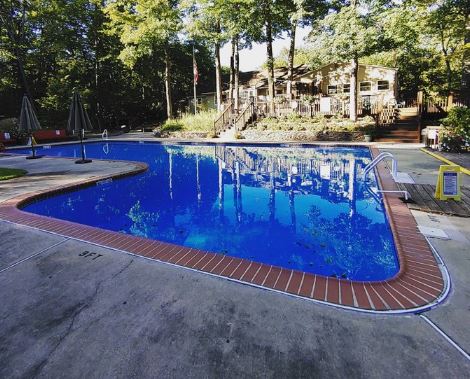 177 Allen Rd,
Basking Ridge, NJ 07920
(908) 419-5443
https://www.skyfarm.com/
Another popular entry among New Jersey nudist resorts is Sky Farm. This is a highly rated members-only family-friendly naturist spot located in Basking Ridge, NJ. Amazingly this spot has been operating since 1932 making it the country's oldest naturist community.
Sky Farm is open from May to October for nudist fun. Amenities include Heated Pool, Hot Tub, Sauna, Kids Playground, Tent Camping, Free WIFI, Lodge rooms, Clubhouse, Large Sun Lawns, Nature Trails, Volleyball, Tennis, Nude Yoga, Pétanque, Themed Dinners, and Pool Parties.
Nudity is required at the pool and hot tub areas but Sky Farm is clothing optional in the other areas.
You do need a membership in order to visit Sky Farm. You can arrange to take a tour of the location to check it out before applying for membership. Tour requests can all be done through their website.
There are 60 cabins available for members to rent on their stays at Sky Farm.
Goodland Country Club
Hackettstown, NJ,
(908) 850-1300
http://www.goodlandcc.com/
This is another one of the New Jersey nudist resorts with extremely good reviews from its visitors. This is a family-friendly naturist club that is located on 37 acres with a ton of amenities. They are open 7 days a week from Memorial Day through September.
A list of amenities includes:
Swimming Pool
2 whirlpools
2 Saunas
Hot & Cold Outside Showers
Picnic Area overlooking the Pool
Volleyball
Badminton
Shuffleboard
Ping Pong
Basketball
Billiards
Cable Television in the Recreation Hall
Cabins
Trailer and Camp Sites are available by the night, week, or season
Nudity is required at the pool, sauna, and whirlpools but is optional in all other areas.
Daily admission is $40 on weekdays and $50 on weekends. There are seasonal memberships available as well.
Cabins are available from $70 – $90 per night. Additionally, there are campsites and RV sites available at different rates.
New Jersey Swinger Resorts
As far as New Jersey swinger resorts go, there is one option that is out there. While not a traditional swinger resort, you will find that the attached Surfside hotel to the Saints and Sinners Club does give that swinger resort vibe.
If you are interested in more of the swinger experience in New Jersey, check out this New Jersey Swingers Club article for full details.
That article has additional information on swinger nightclubs. Additionally, there is information on some New Jersey swinger groups that sometimes do hotel takeover events that will basically turn a local hotels into New Jersey swinger resorts for a weekend.
My wife and I are big fans of the swinger resorts and highly recommend that you should check them out. The easiest way for New Jerseyites to experience these clubs would be to hop a low-cost flight to Florida and check out the Florida swinger resorts. It is a fun experience that you will never forget.
Saints & Sinners
18 S Dr Martin Luther King Blvd,
Atlantic City, NJ 08401
1-800-960-4191
https://www.saintsandsinnersclubs.com/
For New Jersey swinger resorts, Saints & Sinners is your only and best option. This is more like a swinger club than a resort but the attached hotel gives you options that you basically do not find north of Florida. The clothing-optional pool and hotel are what sold me on classifying this as a swinger resort.
First of all, this is a swinger spot so you will find sexual activity going on here. This is nothing like the naturist spots listed above. This is a place for swingers to meet up with other swingers and participate in sexual activity.
Saints & Sinners is attached to the 30-room Surfside hotel. This allows you to visit the club portion and take advantage of the Saturday pool parties while staying overnight.
Amenities at Saints & Sinners include two dance floors, two bars, stripper poles, a light and sound show, an outdoor deck, clothing optional pool, locker rooms, showers, private playrooms, open playrooms, and a lounge area.
Both the hotel and the swinger club receive high review scores online and in the swinger community.
They are open on Fridays from 9 pm to 3 am for couples, single males, and single females. The Friday admission is $50 for couples, $100 for single males, and $20 for single females.
They are open on Saturdays from 9 pm to 3 am for couples and single females only. The Friday admission is $100 for couples and $20 for single females.
There is also a Saturday pool party that runs from 11 am to 5 pm which is free for those staying at the hotel. For others it is $30 for couples, single women are free and single men are not allowed to attend.
The pool party is a great opportunity for a New Jersey nudist to soak up some sun while having a little fun.
In addition to the attendance fees, there is a membership fee that you have to pay. This fee is $50/year for couples, $20/year for single females, and $100/year for single men.
Special Note to Men
Whether you are considering going to New Jersey nude beaches, New Jersey nude resorts, or New Jersey swinger resorts, many men have similar concerns before going. I know that I had two big concerns myself before going.
These two big concerns were about my penis size and erection quality. After visiting a ton of these nude spots, I can tell you for certain that these issues are only important if they affect your self-confidence. But if they bother you, you do not have to be ashamed and you can try to do something about it.
Erection quality is very important to most men whether or not they are looking at going to nudist spots. But if you want to be active in the swinger lifestyle, it can be very important to you. I know that when I had erectile dysfunction that it kept me from wanting to try out the swinger lifestyle.
If you have erectile dysfunction or are just worried about erection quality, Check out the Being Able to Perform to find out how I fixed my erection quality issues. I was able to actually fix my erection issues instead of just covering it up with pills and injections.
Penis size concerns do not have to be a big deal if you can get over them. At naturist spots, no one cares about penis size. At swinger spots, penis size is way down on the list of what people are concerned about.
If you can't get over it (I couldn't), there is something that you can do. It is not fast or easy but there is only one scientifically proven method that worked for me. Check out the Making an Impression section for more details.
Being Able to Perform
I tried everything to overcome my erectile dysfunction without success. I tried the prescription pills, supplements, penis injections, and vacuum devices/rings. After everything failed, I thought that penis implant surgery was my only option.
That is when I discovered acoustic wave therapy. This type of treatment was the cure for my erectile dysfunction and changed my life around.
I personally used the Phoenix device to help overcome my erectile dysfunction and strongly recommend it to any man with concerns about his erection quality. The Phoenix is a fully functional FDA-registered device for home use with a 98% success rate.
The Phoenix device is shown to fix poor blood flow which is the leading cause of ED. Additionally, the Phoenix safely eliminates plaque in penile blood vessels and triggers the growth of more blood vessels. Do not just live with erection problems when you can do something about it.
Making an Impression
In regards to penis size, there is only one way to actually increase your penis size. This is not through the use of magic pills, lotions, or any other quick and easy fix. The use of penis traction devices is the only way that works but it takes time and effort.
This is the only method that has been scientifically studied and proven to work for penis enlargement. This is not easy and you need to really be committed to the use of these devices in order for it to work. With these devices and a commitment on my part, I was able to add over an inch of length to my penis.
To find out more about penis traction devices be sure to read Do Penis Traction Devices work? This article contains information about the devices, scientific studies about the devices, and my personal results using the devices.
Related Posts
Penis Size at Nudist Resorts and Beaches
Naturist or Swinger Nude Resorts and Beaches
What Works for Weight Loss and Energy
PrimeGENIX DIM 3X Review Is It Legit
What works for Erection Quality:
Review of The Phoenix Acoustic Wave Therapy Device for Erection Quality
What Works for both Penis Lengthening and Thickening:
Review of the Phallosan Forte for Penis Enlargement