I have been working on lengthening my penis for over four years. After all of this time and spending over $10,000, I am finally near my goal but I wish I had started out knowing what I know now. With all of my experience, I found there is only one method for penis lengthening that actually works. That method is the use of penis traction devices (also known as penis extenders or penis stretchers).
I want to share with you my penis traction device before and after pictures along with my results. It is truly amazing how well these devices work once you find the proper device for you. If you are serious about making your penis longer, you need to do some research on penis traction devices and find the one that works for you.
I have been consistently using penis traction devices for a little over six months now. After years of failing to achieve any significant increases in penis length. I finally found out that using a quality penis traction device was the key. I had previously worn low-end penis traction devices that constantly slipped off or failed to provide consistent traction with no results. Once I had some quality devices, I was able to start achieving my goals.
My Actual Before and After Results
Prior to beginning any penis enlargement program, it is important to have excellent erection quality. Without the blood flow to the penis that firm erections bring, your penis enlargement program will not succeed. As a matter of fact, there is no reason to waste your time or money on a penis enlargement program without first obtaining excellent erection quality. You will not get any gains and plus what fun is it to have a large penis if you can't actually use it. So whether it is GAINSWave, the Phoenix device, or daily Cialis, get your erection health under control first.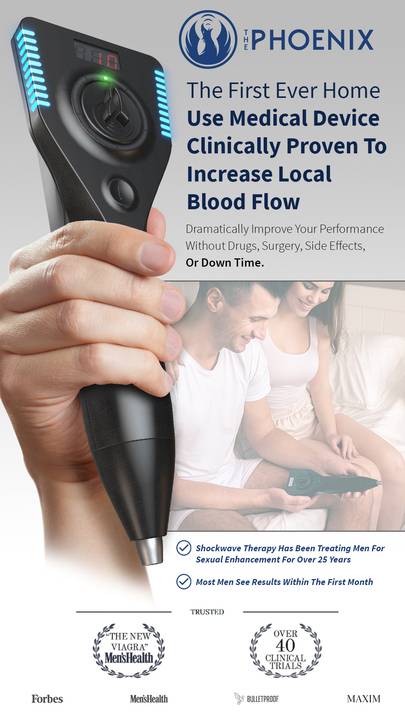 The first picture below is from before I first started using the Phallosan Forte penis traction device. During the three months that I exclusively used the Phallosan Forte, I gained over a 1/2 an inch in length. At that point, I added the Total Man penis traction device system and my gains really took off. I gained an additional inch of length over the next three months. In all I have gained about 1 1/2 inches of length during this six-month period. I have also seen significant improvements in penis curvature and an increase in my penis girth of 1/2 ".
Find What Works for You
Like many men, I was truly desperate to increase the size of my penis but had almost gotten to the point of giving up until I found a penis traction that worked for me. I had previously tried a number of penis traction with very disappointing results. This was mostly due to the inability to keep the penis traction device in place. I found that the traditional penis traction devices would slip off when I applied tension for a long period of time. Once I found some penis traction devices that worked for me by staying in place, I started to get some really phenomenal gains.
If you haven't found a penis traction device that works for you, then I suggest that you check out my Top Five Penis Traction Devices here. Whether you call the penis traction devices, penis extenders, or penis stretchers, the truth is that they just work. I know the frustration of not having the penis size that you want. Don't give up and don't continue to feel inadequate when there is something that you can do about it. With a little bit of time and effort, you can get the penis that you want and deserve.
Related Posts
What Works for both Penis Lengthening and Thickening:
Penis Traction Devices Including Before and After Results
Review of the Phallosan Forte for Penis Enlargement
Review of the Total Man System
What works for Erection Quality:
Review of The Phoenix Acoustic Wave Therapy Device for Erection Quality