I suffered from erectile dysfunction for years before I finally discovered my cure. During that time, I tried a number of ED treatments including BiMix gel. I wasn't sure how BiMix gel would compare to TriMix gel or BiMix gel but I decided to try it anyway.
As a general rule, I found that BiMix gel is a reasonably effective treatment for erectile dysfunction. BiMix gel is not as effective as Trimix gel or Bimix injections but it does work. BiMix gel tends to have fewer painful side effects than Trimix gel or BiMix injections.
In this BiMix gel review, I am giving my personal experience using this product. I am not a doctor and you should consult a doctor before undergoing any ED treatment. So let's look at my BiMix gel results, the price, BiMix gel vs Trimix gel, BiMix gel vs BiMix injections, alternative treatments, and more.
My BiMix Gel Results
In general, my BiMix gel results were pretty positive. I decided to give BiMix gel a try due to my struggles with severe erectile dysfunction at that time. I was not getting good results from prescription ED pills and I had suffered from a painful reaction to both TriMix injection and TriMix gel products.
I found that the gel was relatively easy to use. There was no pain associated with using this treatment. I had previously experienced a painful reaction to TriMix gel and TriMix injections. The BiMix injections were not painful but of course, there was the discomfort of the needles.
The use of the gel does take a couple of minutes as it is inserted into the urethra (this is with a dull syringe so no sharp needle sticks) so you have to hold the penis upwards for a few minutes to keep the gel from running out.
I found that I started to get penis engorgement within about five minutes of using the Bimix gel. After using the gel, I had an erection that was sufficient for sexual intercourse about 80% of the time. By comparison, I could not get an erection without medication and Viagra worked about 10% of the time.
I found that the quality of my erections was better than what I got from prescription pills, slightly worse than what I got from Trimix gel or BiMix injections, and significantly worse than the erections from TriMix injections.
I did stay with the BiMix gel until discovered acoustic wave therapy as an effective treatment for my erectile dysfunction. I found that the total lack of pain with this treatment option made it the only way to enjoy sex until I regained my natural erection ability.
What is BiMix Gel
The active ingredients in BiMix gel are papaverine and phentolamine. These ingredients increase blood flow to the penis by causing the smooth muscle in the penis to relax. This gel is administered by being inserted into the urethra will a dull syringe.
This is a prescription medication so you will need to see your doctor or urologist about getting it. You can not just get it at your local pharmacy. It will need to be made at a compounding pharmacy and sent to you.
This medication needs to be kept refrigerated until use. I received premixed syringes of the gel and the pharmacy only suggested a shelf life of 30 days on the medication before disposing of it. Some say you can use it for longer but check with your urologist first.
For most men, BiMix gel starts working in 5-10 minutes. The effects of the gel last from 1/2 hour to two hours. Of course, if you have a prolonged erection in excess of 4 hours or experience pain, you should seek immediate medical attention.
BiMix Gel vs TriMix Gel
TriMix gels have papaverine and phentolamine just like BiMix, but Trimix has alprostadil as a third ingredient. As far as the application and looks of the medications go, BiMix gel and Trimix gel are exactly the same.
Like many men, I have a painful reaction to alprostadil. I first found this with TriMix injections. I was told that there was a chance that I would not react the same way to TriMix gel but I did end up having the same painful reaction.
With the BiMix gel, I did not have this painful reaction at all.
I did find that the TriMix gel was much more effective in creating a firmer and harder erection. Unfortunately, if you have the pain from the alprostadil, you can not enjoy the sex once you get the erection so in my case the BiMix was much better.
BiMix Gel vs BiMix Injections
BiMix injections have the same active ingredients as BiMix gel but it is delivered with a needle injection into the penis. While this is not fun, it is not quite as painful as you might think.
I found the BiMix injections to be slightly more effective at creating a useable erection than the gel but the gel was easier and less painful to use in that there was no injection.
It sounds stupid but if it was a special night and I wanted to be at my best, I would go with an injection. For most nights, I would just use the gel and spare myself the whole injection routine.
BiMix Gel Price
I checked the 2022 price of BiMix gel and it was around $50 per ml from most compounding pharmacies. Depending on your dosage, this will be good for one to five doses so it is fairly expensive. Sometimes it is cheaper when you get more, I would often get 3 millimeters for $120.
Most insurances will not cover BiMix gel but some will.
How To Get BiMix Gel
BiMix gel is a prescription drug so you will need to visit your doctor or urologist in order to try it out. It is amazing but I found that a lot of doctors do not know about this gel. You may have to educate your doctor about it and ask them to do a little research on it.
The next problem is in finding a compounding pharmacy that makes it. Hopefully, your doctor will know a compounding pharmacy that makes it but I had to find one for my doctor.
There are not a lot of these pharmacies out there but there is a trick to this. Find a compounding pharmacy that makes the more common TriMix gel.
If you call and ask if they make BiMix gel they will often say no but ask to speak to an actual pharmacist. Being a compounding pharmacy means they make the gel right there and BiMix gel is just TriMix gel without the alprostadil.
So if a compounding pharmacy makes TriMix gel then they can make BiMix gel because they just add one less ingredient. You just need to talk to someone who knows what they are talking about.
Once you get all straightened around finding a pharmacy, they will ship the medication to you in a refrigerated package. Mine came all unmarked so no one knows what you are getting.
How To Use BiMix Gel
Using BiMix gel is pretty simple. Below are the steps that I use. Consult with your doctor/urologist to make sure that these are the proper steps for you.
Hold the penis upright. This prevents the gel from flowing right back out of the penis.
Squeeze the sides of your penis glans so that the opening of the urethra (the hole in your penis that you pee out of) widens.
Insert the dull tip of the syringe about a 1/4″ into the urethra.
Slowly push down on the plunger to inject the prescribed amount of BiMix gel into the urethra. The gel should be injected over the course of 20-30 seconds which seems like a long time when you are doing it.
Once you have put the gel in the urethra, continue to hold the penis upright for 1-2 minutes so that the gel can be absorbed. If you let the penis hang down, the gel may run out.
BiMix Dosage
Check with your doctor for your specific dosage but my doctor had me start out using 0.2 ml of the Trimix gel. I then would increase the dosage by 0.2 ml each time until I found the dosage that worked for me. I ended up using 0.6 ml each time.
My actual prescription contained 40 mg of papaverine and 3 mg of phentolamine per ml.
How I Stopped Needing BiMix Gel
I used BiMix gel because I had severe ED for years. I tried everything to get past my ED including prescription pills, prescription gels, prescription injections, weight loss, exercise, and supplements. Nothing worked for me and the ED continued to worsen.
I eventually found out about acoustic wave therapy for erection quality. This was the same treatment that the rich and famous get in the fancy Hollywood clinics. I am not rich and famous but I scraped together enough money to try it out and it worked for me.
This was the first thing that actually improved my erection quality. No pills or injections, just natural firmer erections. The problem that I ran into was that I couldn't afford to continue the treatment program.
This is when I came across an article about the Phoenix device. This device offered the same treatment program that I was paying thousands of dollars for at a fraction of the price. This Better Business Bureau A+-rated company even offered a money-back guarantee if it didn't work for me.
I tried out the Phoenix and I am so glad about it to this day. For less than the price of a couple of office visits, I got a device that delivered at least 70 clinical-grade acoustic wave therapy sessions at home. I was able to achieve and maintain a level of erection quality that I thought was gone forever.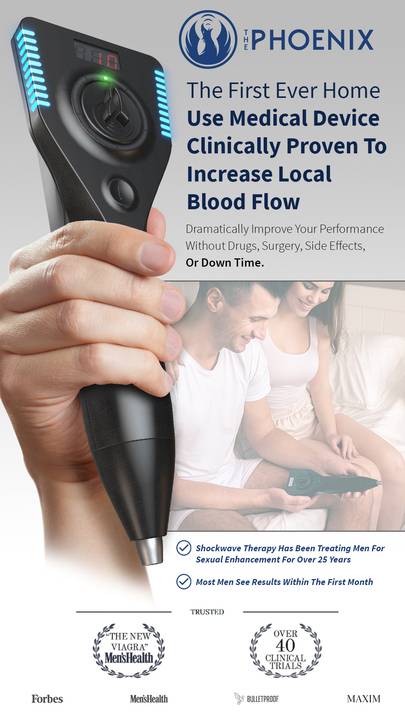 I can not stress enough how much of a game-changer this was for me. If you have similar problems, check out the Phoenix device. If it doesn't work for you, return it. But if does for you what it did for me, you will be absolutely amazed. You really owe it to yourself.
You can check out the Review Of The Phoenix Acoustic Wave Device to find out the complete details of this device.
BiMix Gel Review Takeaways
My main BiMix gel review takeaway is that this product is an effective way for men with ED to create an erection sufficient enough for sex. If you can not use the TriMix products due to pain, I would recommend the BiMix products.
The gel application is simple and completely pain-free so that you can just enjoy the erection without stressing yourself out. This is a good ED treatment for many men.