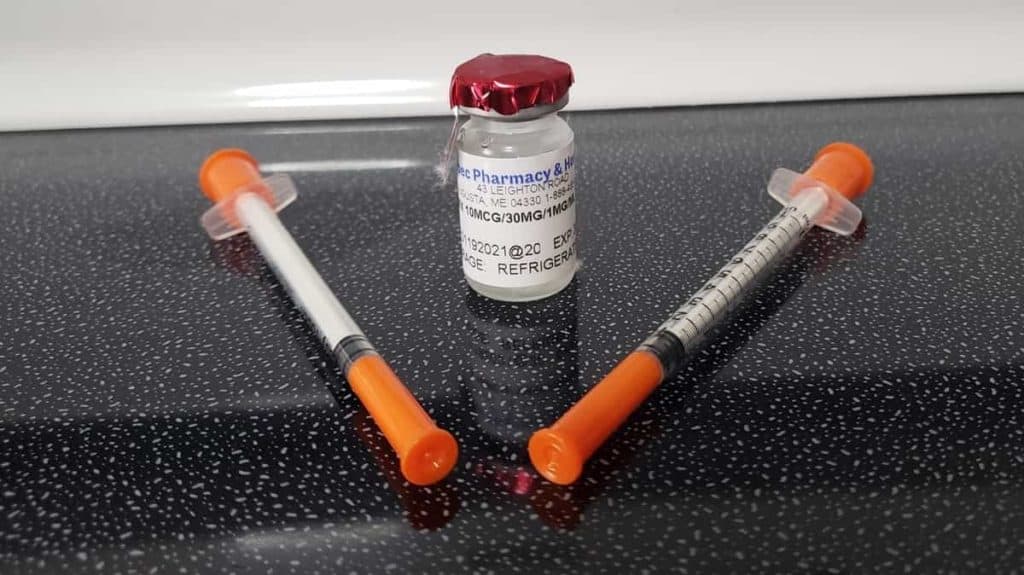 Many men experience intense penis pain from Trimix when they use this medication for erectile dysfunction. Often doctors and pharmacies do not understand this pain. They think that it is due to injection site pain and do not understand that it is a reaction to the PGE component of Trimix and not an injection issue. This confusion leads to frustration on the part of the Trimix users.
When I used Trimix for erectile dysfunction, I found that it caused an intense pain that made it impossible to enjoy sex. This is not pain at the injection site or pain from the needle but a sharp aching pain that I felt at the top half of my penis that would last for hours. If you have suffered from this, you are not alone. There are things that you can do and alternative medications that you can try when you suffer from intense penis pain from trimix.
The Standard ED Treatment Path
First of all, I am not a big fan of the treatment of men with erectile dysfunction by the American medical system. There seems to be a general lack of caring by the health care professionals. They seem to have a standard approach to treating erectile dysfunction that does not take into account anything about the patient. The standard path of care seems to be PDE5 inhibitors like Viagra and Cialis, Trimix injections if that doesn't work, and Penile implant if that doesn't work. If you don't like this plan, then you are just out of luck in most cases.
What is Trimix
Trimix is one of these major treatment components used by urologists. The common ingredients of Trimix are Papaverine, Phentolamine, and Prostaglandin (PGE1) (source). Trimix is a medication that is injected directly into the penis and is extremely effective with most men (70%). This medication will typically result in an erection within 5-15 minutes after the injection (source).
Unfortunately a major side effect of Trimix injection is general penis pain. The PGE1 is believed to be the common source of general penis pain from the Trimix injections (source). This pain occurs in about 20% of men and can take 2-24 hours to subside (source). This pain can be severe and has led to the discontinuation of Trimix use by many men.
My Experience
When I started to suffer from erectile dysfunction, I was given the normal prescription for Viagra by my primary care doctor and sent on my way. The Viagra did not work, so they tried Cialis. When that did not work, my doctor sent me on to see a urologist. The Urologist set me up to try Trimix injections for my erectile dysfunction. I was not too happy with the idea of injecting myself in the penis but I desperately wanted to be able to have sex again.
The urologist gave a small injection of the Trimix in his office. Within a couple of minutes, I began to get an erection. I complained to the doctor about experiencing some pain near the tip of the penis. He stated that the pain would pass soon and if not to take some ibuprofen. At that point, he sent me on my way home.
An hour later, I still had an erection and intense pain in my penis. This pain was so bad that I could not even think of having sex with my wife. I took the ibuprofen for the pain. I took the Sudafed as suggested by the urologist to help make the erection go down. After a couple of hours, the erection subsided but the pain still lingered on for several hours.
It was very frustrating to have finally found something to effectively treat my erectile dysfunction only to not be able to use it due to the pain.
Possible Methods to Continue with Trimix
Some men find that they can control the pain through the use of ibuprofen. I did not find this to be extremely effective but it is a simple solution that is worth trying.
Another easy alternative solution may be to lower your dosage amount of the Trimix. I found that when I lowered my injected dose to just 10 units, that the pain would be tolerable. Of course, the erection quality was not as good as it was with the full dose but it did give me a partial erection that was functional on some occasions. Note: Please consult with your doctor before changing dosage amount.
Check with your doctor to see if there is a different formulation of Trimix that may work for you. Trimix is a compounded medication that comes in different strength amounts. The initial Trimix prescription is usually at a lower dosage but there may be a formulation that your doctor can prescribe that contains less of the PGE1 component. Unfortunately, the PGE1 component seems to be the most effective in creating the erections so the lower the dosage may be less effective.
Trimix Alternatives
The major alternative to Trimix is the similar BiMix. This medication is prescribed by your doctor/urologist just like Trimix. It is an injectable medication that contains the Papaverine and Phentolamine but not the Prostaglandin (PGE1). This formulation will eliminate the pain for most men but unfortunately is found to be not as effective as the Trimix in most men. When I utilized the BiMix, I found that my penis would become engorged and partially erect. Unfortunately, the erection would not be full and would not always be functional.
Another possible treatment are the less common injectable combinations. These combinations are less likely to be prescribed by most urologists and may need to be found through an online prescriber and pharmacy. An example of this type of prescriber/pharmacy combination would be RxBuyersClub. They offer telemed visits with a variety of potential erectile dysfunction medications that are less common than the generally prescribed medications.
These injectables are less common and have a lot less research about them than the common ingredients of Trimix. These medications include Forskolin, VIP (Vasoactive intestinal polypeptide), and ATO (Atropine). You can find these medications in different formulations and combinations with other medications. Unfortunately, I did not find any of these to be effective replacements for the PGE1 portion of Trimix.
What I Ended Up Doing
With the guidance of my urologist, I ended up utilizing what he referred to as a salvage combination therapy. I would use the low dose (10 units) Trimix injections in conjunction with 20 mg of Cialis. The combination of these two medications would give me an effective erection about 50% of the time. If I combined these two medications with the use of a constriction ring, I would be able to have intercourse about 90% of the time.
This was not an ideal solution but it did allow me to have some semblance of a sex life. Eventually, I found a long term solution that helped me to regain my erection quality but this combination let me get through the really tough times.
My Long Term Solution
Although I found a somewhat effective way to use Trimix, I was still in search of a long term solution to erectile dysfunction. Personally, I found that acoustic wave therapy with the Phoenix system was the long term solution for my erectile dysfunction. This treatment helps your body return to natural firm and hard erections.
At first, my use of acoustic wave therapy helped to get better results from the use of my erectile dysfunction medication. Over time, I was able to achieve firm and hard erections without the use of medication. In my opinion, it is the best treatment for erection quality.
Conclusion
The intense penis pain from Trimix injections make it an ineffective treatment for many men. While the medication is usually very effective, the pain can make it basically unusable. I have found that many doctors and pharmacists do not properly understand the pain and consider it to be an injection issue. However this pain, has nothing to do with the injection and is a symptom that is usually caused by the PGE1 portion of Trimix.
If you are one of the 20% that experience this type of pain, there are a few things that you can try. You can try treating the pain with ibuprofen or lower your dosage of the medication. Alternative injectables like Forskolin, VIP (Vasoactive intestinal polypeptide), and ATO (Atropine) may work for some. Long term treatment like acoustic wave therapy can be effective at reducing the need for Trimix injections.
Related Posts
What Works for both Penis Lengthening and Thickening:
Penis Traction Devices Including Before and After Results
Review of the Phallosan Forte for Penis Enlargement
Review of the Total Man System
What works for Erection Quality:
Review of The Phoenix Acoustic Wave Therapy Device for Erection Quality